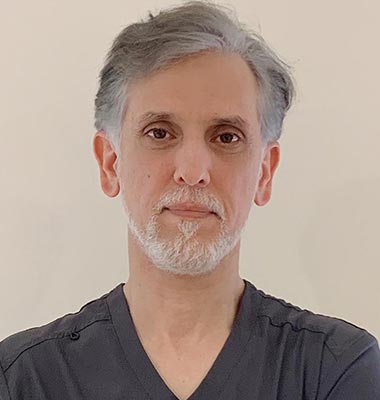 Dr J Taheri, DDS Swe.
Principal Dentist and special interest in Cosmetic and Implant Dentistry
GDC 74114
Dr Taheri graduated in 1998 from Karolinska Institute in Sweden, one of the world's leading institutions of dental and medical education and research.
He has a wealth of experience in all types of general dentistry, with additional studies in restorative and cosmetic dentistry.
In the field of implantology Dr Taheri pursued an extensive postgraduate education including training with FGDP. This has enabled him to provide single or multiple implants alone, or in combination with bone grafting, bone expansion as well as implant supported dentures.
Dr Taheri has developed a creative approach in the world of cosmetic dentistry and solutions to provide a long lasting beautiful smile. He is particularly skilled in the art of smile design and has the ability to completely transform teeth in ways that can often be life changing. He achieves this by combining treatments such as tooth whitening, cosmetic bonding, veneers and crowns to completely transform smiles.
He is a member of the FGDP(The Faculty of General Dental Practice)
the BDA (British Dental Association).