Our philosophy is that cosmetic dentistry should always look and feel natural. Veneers are thin, custom-made shells made of tooth-coloured materials designed to cover the front side of teeth to improve the overall appearance of teeth.
When preparing your dental veneers, we'll take great care to select the precise shade of porcelain to improve a single discoloured or stained tooth, or to lighten front teeth, making sure that the veneer sits naturally alongside the rest of your teeth.

Veneers are often favoured by clients as they can create the impression of perfect teeth – without the process of wearing a brace for a long period of time.
Some of the advantages of veneer include:
Improve tooth staining and discolouration
Repair Fractures
Straighten crooked teeth
Close gaps
Enhance the aesthetic appearance of your smile and face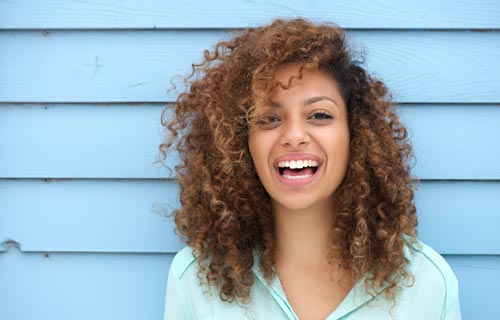 Clear Braces 
Invisible braces straighten teeth using a series of transparent easy to wear aligners that fit comfortably over the teeth. 
Patients wear each clear brace for approximately two weeks during which time the teeth are moved in precisely planned incremental steps.
Gradually, week by week the invisible system helps move the teeth into their desired final positions.
Fastbrace
Fastbrace is an innovative fixed brace treatment which straightens teeth up to 50 per cent quicker than traditional systems.
At Welham Green Dental, we offer our clients the latest teeth straightening treatments to help them achieve beautiful smiles.
Inman Aligner
For minor improvements of your front teeth, Inman aligners may be ideal. They require minimal effort and usually the correction can be finished in 6 months if no other condition co-exists.
Although the Inman Aligner is not as discreet as other braces like Invisalign, it does offer similar advantages. The Inman Aligner is removable so you can eat and clean your teeth as usual. And you only need to wear a single appliance rather than a series of aligners every few weeks.
Invisalign® is definitely the wave of the future for those wanting to straighten their teeth and beautify their smile. These transparent, plastic aligner trays work as a set to gradually straighten your teeth in a manner similar to traditional metal braces.
Traditionally, braces are made using metal, plastic or ceramic brackets. These brackets are fixed in place to the front of the tooth and a wire is then held between them. Whilst braces are clinically proven to deliver very effective results, many prospective patients are afraid to wear them as they do not like the idea of their appearance during treatment.
We offer a solution at Welham Green Dental as our dentists can fit you with Invisalign which will give you a beautiful smile as conventional braces will, but without compromising your appearance during the treatment.
Invisalign offers the patient a series of clear, removable aligners which are changed every 2-3 weeks. There is no tightening to be done, no changing of wires and no elastic bands to get in the way. Instead, all of the adjustments are made with one new aligner every few weeks.
Since the aligners are clear they are hardly visible in the mouth at all and will fit perfectly against your teeth. As each aligner is individually moulded to specifically fit each patient, Invisalign is much more comfortable than conventional braces.
What is Boutique Whitening?
Boutique is a professional teeth whitening system that can only be prescribed by a dentist.
You may have seen over-the-counter teeth whitening kits and beauty salons offering similar types of treatment. What you may not know is that, in the UK, it is a criminal offence for non-dentally or medically trained people to offer teeth whitening treatment.

The main reason for this is that you must be clinically examined for dental health issues beforehand to make sure the treatment is safe for you. Untrained practitioners can potentially damage your teeth so you should always make sure that you always go to a highly qualified professional for your cosmetic dental treatment.

Boutique whitening system is designed to fit in with your lifestyle. The Boutique by Day formula requires 1.5 hours wear time per day. We also have 4 overnight gels – the Boutique by Night and Hybrid Pro gels will whiten your teeth overnight as you sleep.
It is so easy to get started on your whitening journey. Your dentist takes a mould from which we can precision manufacture your bespoke whitening trays. You then decide with your dentist which system will best suit your lifestyle – apply the gel as directed to unveil your new brighter, whiter smile.
So simple!
What makes Boutique different?
Our Service with a Smile
We have a wide selection of affordable private and NHS treatments at Welham Green Dental that ensures you have the very best support at a pace to suit you.